To find this settings page go to WooCommerce and find "Woo Header Mini Cart" as a submenu and click on Sidebar Settings
Change the sidebar position? :  Click for change SIdebar left to right side, Default: Left
Stop Auto Open? : The sidebar opens automatically after carting a product, click to close it
Background: the Background color of the whole mini cart Sidebar
Top Part #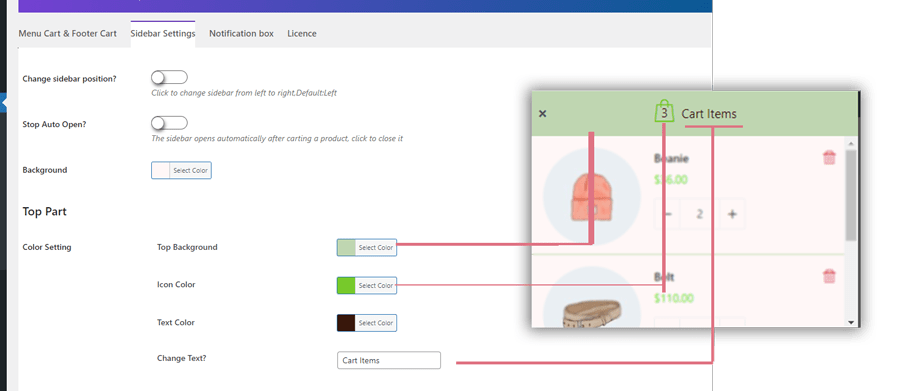 This is the part of the cart item number
Top Background Color:  Select the top bar background color from the color picker
Middle Part: #
Background Color:  Select the  background color from the color picker
Product round image: click the switcher to enable the product image round shape
Choose a Delete Icon: You will get 15 deleted icons, select one
Bottom Part: #
This is the bottom part of the sidebar mini cart, we have discussed its different parts in detail on separate pages, please see below.
Front-end view of the bottom part:
Coupon icon:  #
When you offer a coupon code for the discount, customers can use it from here and it will show what coupons are available. if you want to add a coupon to your Woocommerce website, first add a coupon code
How to enable coupon functionality on your woocommerce site?:
First, go to WooCommerce > Settings > General. And click the checkbox to enable the coupon code, please see the image below. for more details please read the Woocomerce Coupon Management
The front-end view of Apply coupon on the Sidebar Mini cart: 
Sub Total: #
The cart Amount subtotal is shown here, you can customize the text, change the color, and disable this section if you want.
Shipping: #
By clicking on the pen icon next to Shipping in the front end, the shipping calculator will open, where the customer can input the location and calculate the shipping cost. Please read more about Woocommerce shipping
The front-end view of the Shipping Calculator on the Sidebar Mini cart: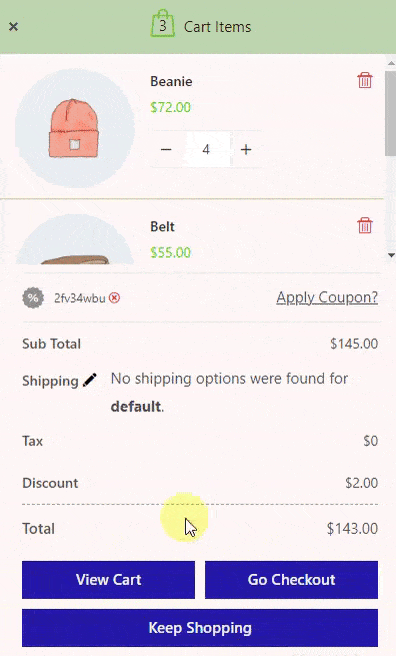 Tax: #
The sales tax amount is displayed here. You can customize the title and taxonomy from the settings page and disable this section if you want. Please read more about the details
Discount: #
After applying the coupon code, the discount amount will show here
Total: #
The net amount will be displayed after subtracting the coupon code, shipping cost, or tax amount